Add solar panels to your home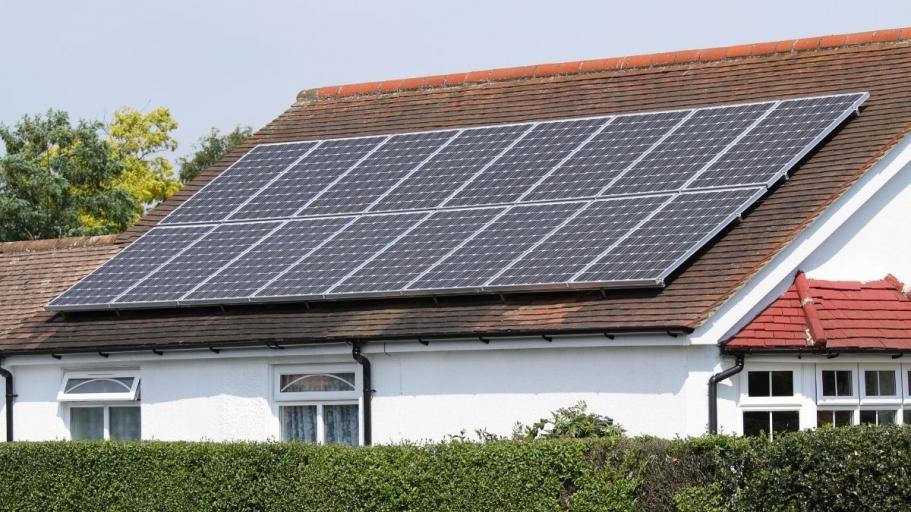 ​A great way to reduce the pollution created from your electricity, signal to your neighbors the importance of clean energy, and even save money in the long-run! Adding solar panels to your home contributes to the amount of renewable energy available in the UK, while saving you money on your electricity bill - rooftop solar panels typically pay for themselves after less than 6 years.
When installed in your home, solar panels power your electricals, and any power left over can be either stored (if you have additional storage capacity) or exported to the grid.
In the long run, this should lower your electricity bill. The saving depends on how much electricity you normally use, and when you normally run your appliances.
To maximise your savings with solar panels, use your electrical appliances  - such as running the washing machine or dishwasher, recharging batteries or doing the ironing etc.  - when the sun is shining rather than later in the day.
Climate Impact
The energy payback time (the time it takes for solar panels to eliminate the same amount of emissions it took to make them) is about three years, and most solar panels should last you twenty years, so that's 17 years of emissions-free energy!
Next steps
Get advice and information from the Energy Saving Trust
Love graphs? Have a look at the country's energy meter and see live how much energy is renewable and how much is fossil fuel powered. ​
If you have a household income under £30,000
Find out if you're eligible for fully funded solar panels through Oxfordshire County Council's Sustainable Warmth Fund:-
If your primary heating system uses mains gas (such as a boiler), please contact the Better Housing, Better Health service on 0800 107 0044, use the online referral form

via this link

or email

bhbh@nef.org.uk

Where you are asked to provide a description of the service you are interested in, please quote "Oxfordshire County Council's LAD3 funding".


 

If your primary heating doesn't use mains gas (such as storage heaters, an oil boiler, coal fire, etc) please contact Warmer Homes on 0800 038 5737 or the online application form

via this link

. Please state that you are interested in "Oxfordshire County Council's HUG1 funding".